3M™ Scotch-Weld™ PUR Adhesive EZ250150, Off-White, 1/10 Gallon Cartidge, 5/case
254140
MFG #: 051115-23559
Application Time:

2

Base Type:

Urethane

Color:

White to Yellow

Container Size:

0.1

Container Type:

Cartridge

Curing Time:

24

Flammability Rating:

1

Flash Point:

>300

For Use On:

ABS, Acrylic, Glass, Metal , PVC and Wood

Form:

Waxy Solid

Functional Cure:

>61

Mixing Ratio:

0.042361111, 0.0423611111111111, 1:1

Odor/Scent:

Mild

Setting Time:

>61, >61 sec

Shear Strength:

1675

Specific Gravity:

1.16

Temperature Range:

60 to 85

Temperature Rating:

60 to 85

Tensile Strength:

3300

Type:

1-Part

Viscosity Rating:

9000

Work Life:

2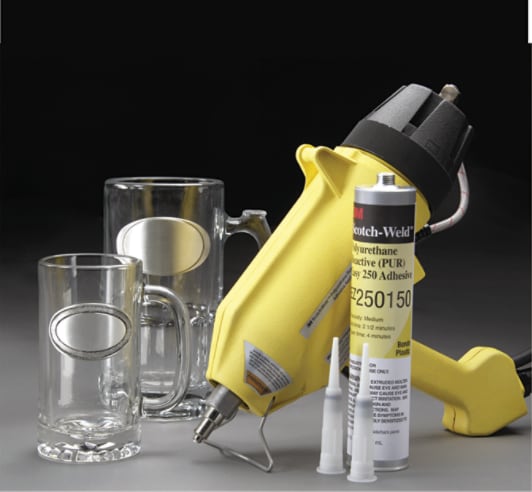 Bonds to wood, plastics, glass and metal
Recommended Applications
Wood or plastic bonding for furniture and cabinetry
Edge banding and profile wrapping
Panel and headliner bonding in automotive interiors
Plastic bonding in appliances and electronics
Insulated and composites panel attachment
Decorative glass and ceramic parts attachment
Molding and trim for countertops, tables, shelving and desks
Attachment of veneers, fabrics and canvas
Understanding 3M™ Scotch-Weld™ Polyurethane Reactive (PUR) Adhesives
3M™ Scotch-Weld ™ PUR Adhesives are one-component, moisture-curing urethane adhesives that are applied warm to create dramatically strong bonds to a variety of substrates such as
wood
(PDF, 17.52 Kb),
fiber reinforced plastic (FRP)
(PDF, 22.78 Kb) and many other plastics to themselves, to metal and to glass. Fast-acting strength begins to build as the adhesives cool for rapid, convenient application with minimal downtime from clamping or fixturing. These adhesives can be extruded from hand held or
bench mounted
3M™ Scotch-Weld™ PUR Adhesive Applicators.
PURs offer attractive options: from woodworkers searching for thin bond lines and replacing unsightly mechanical fasteners, to plastic, glass and metal materials assembly in automotive, electronics, general assembly and many other industries.
Bringing Better Ideas to the Surface through Science and Innovation
In our 3M Industrial Adhesives and Tapes Division, we apply the science of adhesion to deliver innovative solutions that improve the design and manufacturing processes of companies around the world. In the end, our technologies help customers like you deliver competitive products to the market faster and more efficiently
Bonds to polyethylene and polypropylene with slight surface modification
Designed for use with the 3M™ Scotch-Weld™ PUR applicator and unique disposable nozzles
Creates high strength bonds that are plasticizer resistant
Bonds to a variety of materials, including wood, plastics, glass and metal
100% solids formula with no VOC's
4 min open time for joining parts together
Can be sprayed or roll coated onto surfaces
1-component adhesive for easy application with no mixing or guesswork
OSHA 29 CFR 1910.1200