3M™ Scotch-Weld™ Epoxy Adhesive 405, Black, Part A, 5 Gallon Drum (Pail)
265581
MFG #: 051111-07708
Application Time:

4, 4 min

Base Type:

Epoxy

Brand:

Scotch-Weld™

Color:

Clear

Container Size:

5, 5 gal

Container Type:

Pail

Curing Time:

24 hr at 72 deg F

Drying Time:

15 min Air/10 min Force

Flammability Rating:

1

Flash Point:

>/=250, >/=250 deg F

For Use On:

Ceramic, Glass and Metal

Form:

Liquid

Functional Cure:

10

Mixing Ratio:

0.084027777777777771, 0.0840277777777778, 0.084027778, 2:1

Net Weight:

9.2, 9.2 lb/gal

Odor/Scent:

Amine

Setting Time:

10, 10 min

Shear Strength:

4500, 4500 psi

Specific Gravity:

1.1, 1.1000000000000001

Temperature Range:

72

Temperature Rating:

72, 72 deg F

Type:

Part A

Viscosity Rating:

9000, 9000 cPs

VOC Content:

165, 165 g/L

Work Life:

4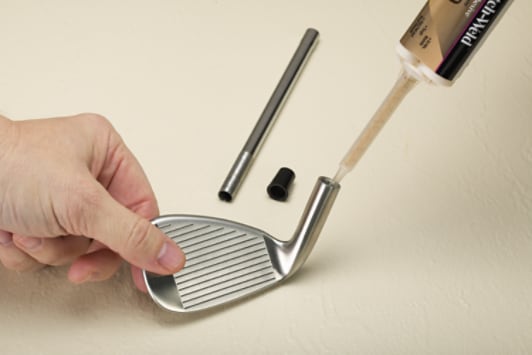 Bonds stainless steel shaft into stainless steel club head
High Peel and Shear Strength Maintains Lasting Bond at High and Low Temperatures
3M™ Scotch-Weld™ Epoxy Adhesive DP405 maintains bond strength at high and low temperatures and can withstand paint bake operations up to 400°F for 60 minutes. It works well on a variety of substrates such as metals, ceramics, wood, glass and many composites, and is an excellent indoor bonding agent for joining, gluing, potting, panel bonding, and structural bonding.
Recommended Applications
Small joint assembly
Heavy-duty mounting assembly
Metalworking
Carbon fiber epoxy bonding
Fast 5 Minute Work Life with Quick Cure Time
3M™ Scotch-Weld™ Epoxy Adhesive DP405 dispenses as a medium viscosity adhesive for easy, controlled application. The adhesive reaches handling strength in approximately 15 minutes and is fully cured in 24 hours (at 72°F/22°C.) The mix ratio is 2:1 and provides a 5 minute work life, providing limited time to adjust for desired fit prior to curing. This adhesive is available in a variety of package sizes and can be dispensed in several ways to meet the demands of the user and the job.
Toughened for Impact and Fatigue Resistance
3M™
Scotch-Weld
™ Epoxy Adhesive DP405 is appropriate for applications that will face tough environmental challenges. Formulated to provide strong adhesion for the long-term, this resilient epoxy is another way 3M meets and exceeds the demands of even the toughest applications.
What are Epoxy Adhesives?
Epoxy adhesives
are part of the class of adhesives called "structural adhesives," which also includes polyurethane, acrylic, cyanoacrylate and others. Epoxies are formulated as liquid reactive polymers that undergo a chemical reaction when mixed and then cure to form a solid plastic material. Once the two parts are mixed in their specified ratio, they begin the curing process and offer a limited work life (open time) where the adhesive can be applied and the two surfaces positioned as needed. This work life lasts anywhere from a few minutes to several hours. These structural adhesives provide high shear and peel strengths, depending on the formula, and better heat and chemical resistance than other common adhesives. In general, epoxy adhesives have the highest overall strength and offer the best performance and most resistance to high temperatures, solvents and outdoor weathering.
Epoxy adhesives are widely used in building and home construction; aircraft and automobile manufacturing; bicycle, boat, golf clubs, ski and snowboard assembly as well
Toughened for impact and fatigue resistance
Fast 5 min worklife, quick cure time
Tougher, long lasting bonds compared to other 5 min epoxies
Adhesive cures at room temperature, making it a convenient and easy to use solution for challenging applications
OSHA 29 CFR 1910.1200